Dopamine colour palettes are set to be one of 2022's biggest trends – here we explore how to introduce the bright and bold colours into our homes.
As you may have already noticed, the Spring trends so far have been drastically more colourful, contrasting with the recent neutral fashion and décor trends of last season.
This dopamine dressing trend is firmly making it's way into the interior world, with statement colourful homeware pieces becoming more present throughout each room in our homes.
Styling colour into your home can add personality and inject a touch of new life to your living space whilst also acting as a mood booster, as bright colours are scientifically proven to evoke happiness and improve wellbeing.
Whether you want to match your favourite colour tones, or make a big statement with strong, eye-catching colours, we've selected a few easy ways to help surround yourself with gorgeous colours to brighten your day, everyday.
Pick your palette
If you're guilty of scrolling endlessly online for inspiration, you would have been overwhelmed with this mass of radiant colours integrating into the interior design world.
If you're looking for a more subtle approach to getting a pop of colour into your homes, consider starting with some bathroom mats to introduce some colour.
Choosing a more muted colour combination such as mustard and grey is a great choice if you're tackling colour for the first time.
Despite being a more subtle colour choice, it'll be certain to still infuse an array of happiness into your décor.
Our chunky bobble bath mat features this stylish colour scheme, with shades of white, grey and mustard within each thick and bobbly stripe.
This mat makes a great addition to any currently neutral bathroom which is looking to see a small hint of colour integrated at a low cost.
To go the extra mile, our co-ordinated Striped Merlin Towels will give your bathroom a finished and put together look, certain to impress any guests.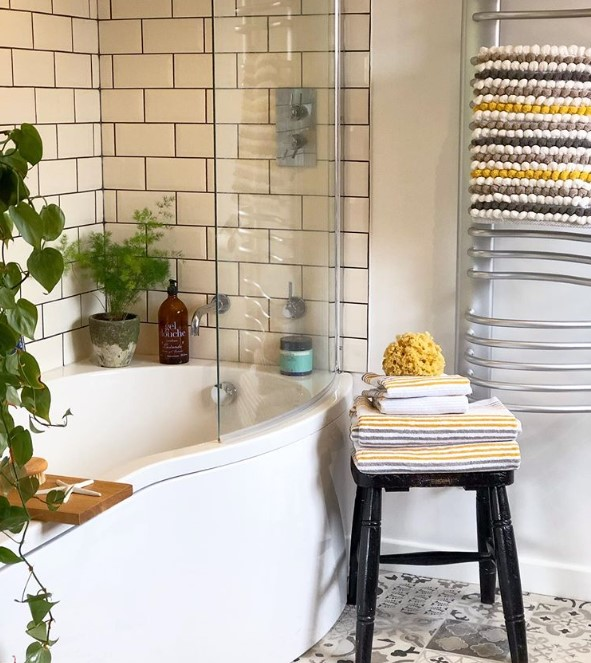 As seen in the gorgeous bathroom above, plants can also be a very quick and easy way to add some colour and life back into your homes.
A large, green house plant can really upgrade any interior, softening the look of your home, whilst also offering various benefits such as improved sleep, better productivity, and purified air.
If you're after a contemporary look, consider mixing a pop of dopamine colour with a striking pattern, to further add interest and style to your home.
Take a look at our Madrid Geometric Collection for example, mixing gorgeous colours with eye-catching patterns.
The joyful colours in this co-ordinated range will liven up your bathroom, without being too overwhelming.
If you're starting with a neutral colour pallete, our beautiful duckegg blue bath mat will be certain to fit seamlessly into your bathroom, perfectly complimenting hues of grey or cream. 
Pair this bathmat with the colour matching Madrid Towels, for a complete look.
Made from 100% cotton and feeling wonderfully soft to the soft, add both a dose of colour and luxury into your bathroom with ease.
Mats that make a statement
Choosing the right colours for your bathroom decor can be overwhelming and sometimes a bit intimidating with the array of bright and bold choices that are on the market.
Adding a statement mat is a simple, yet impactful way to quickly add a dopamine burst into your room.
That's why our Yellow Smiley Face Mat is a perfect dopamine décor essential, putting a smile on your face with every glance at the glowing grin beneath you.
Being 100% cotton, this rug is superbly absorbent, whilst also being delightfully soft on your feet.
Although our Smiley Face Mat is perfectly practical beside your shower, cheerfully absorbing any splashes, it could also make the perfect statement piece in your hallway, as the smile greets every guest with a warm welcome.
Or maybe instead, placed in a kids bedroom to add a playful look and transform their space into a happy sanctuary they won't want to leave.
If alike many of us, you're a fan of animal print, check out our fun take on this design with the new Leopard Print Bath Mats.
Much bolder, much bigger.
Three distinct designs available, go wild with a daring Raspberry colourway - mixing orange and pinks to create a stunning contrast or instead consider a more subtle take, featuring cool tones of blue.
Too wild? Take a look at the more traditional take on the natural leopard design bathmat, with warm hues of browns, making a gorgeous feature piece in your bathroom.
Generously sized at 60 x 90cm, this large sized Leopard Print Bath Mat provides more floor coverage than your standard mat, with built in non-slip rubber backing to prevent any slips or falls.
Fun feature walls
Create the perfect backdrop to your bathroom with a statement colour on your walls. Perhaps you have a favourite colour you'd want to introduce into your decor, to add a personal touch.
As colour can strongly influence emotions, interiors traditionally use specified colour palettes depending on the room and it's purpose.
It is recommend to use daring and dramatic tones in entertaining living spaces, such as dining areas - as it has been suggested to stimulate energy, appetite and creativity.
On the other hand, a cooler colour scheme of blues and purples may be the more relaxing choice for your bathroom.
If instead you rather keep the space more light, let your furniture and accessories do the talking.
A statement shower curtain could be the answer, or maybe a fun and brightly coloured toilet brush, to spruce up the room and provide you with the dopamine boost you need.
More importantly, make sure that colour is introduced from the ground up, by adding our essential Chenille Bath Mat beside your bath tub. With dozens of colours available, you'll find your colour match.
If maybe you're fearing the bold change, instead consider some wall art to add a pop of colour, and add a focal point your room.
With dozens of styles and prints on the market, you'll be sure to find a design that will add a personal touch of character into your home.
Make the colourful transition
So after all, despite it possibly being hard to believe that a brightly-coloured home will make you feel happier, there are handfuls of science behind it.
Making your home a happy home, will be money well spent.
And, as we have mentioned, transforming your room and creating a light and bright happy space can be done so easily, without the big cost you may have imagined.
For even more home inspiration, head over to our Allure Bath Fashions Pinterest page, where our boards are ever-growing with the latest trends and ideas to upgrade your homes.